Daytona Beach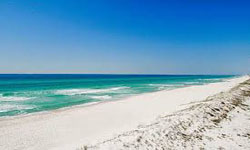 is a city in Volusia County; itís the principle city in the Fun Coast Region of Florida. This region has been attracting international travelers for generations. It has gorgeous beaches and sporting events, and also has cultural offerings such as top-ranked museums and historical sites, festivals, music, theater and dance.

Daytona Beach itself is well-known for itsí fine beaches, where the hard packed sand allows motorized vehicles to drive on the beach in restricted areas. Itís the headquarters for LGPA, USTA, NASCAR & the Grand American Road Racing Association, and ďThe Worldís Most Famous Beach.Ē Daytona Beach is also the site of the Daytona International Speedway and the well-known Daytona 500. The Ocean Center is a multi-use facility that hosts conventions, tradeshows, concerts, banquets, family entertainment shows and sporting events. Itís the Ocean Center, open for business with 200,000 square feet of interior meeting space.

As a place to live, Daytona Beach is a complex melting pot; itís a place where beach goers and bikers coexist with five-star restaurants and high-rise condominiums. Daytona Beach and its surroundings offer a sweep of the Atlantic Ocean, island and mainland from Ormond Beach south to Ponce Inlet. Itís an eclectic mix of people and places.

Daytona Beach is one of the Sunshine Stateís younger and more affordable housing markets. The cost of living is better than the bigger cities of Orlando and Jacksonville. Itís coastal Florida, but without the urban sprawl and crowds and high traffic. Daytona Beach is also one of the few coastal Florida areas with vacant and developable land, positioning it for great things when the boom returns. Parks and fringes of green space, courtesy of proactive city and county leaders who scooped up land despite the recession, will serve for future construction.