Daytona Beach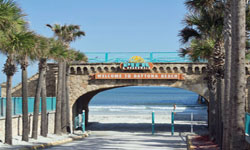 is the central and most well-known of the Daytona Beach communities. It serves as the anchor for Florida's "Fun Coast," and contains the Oceanfront Boardwalk, the historical Main Street Pier, the Halifax Harbor Marina and the widest stretch of white sandy beach. Daytona Beach took the number 10 spot in Cities Journal "Top 16 Small Florida Cities," and AARP Magazine named it one of their "Top 10 Most Livable, Low-Cost Cities in the U.S. for Retirees" in their October/November 2013 issue. Residents cite the easy, relaxed atmosphere and affordability. Others enjoy the outdoor recreation, especially fishing and golf and nearby beaches and state parks. You'll find almost any type of home in Daytona Beach - high-rise condominiums, one, two or three-bedroom single family homes, custom-built homes in private gated communities, retirement communities for older adults, ocean or riverfront mansions.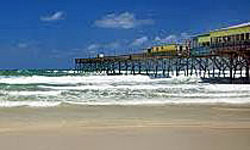 Made famous as the "World Center of Racing" and known as the "World's Most Famous Beach", people have been flocking to Daytona Beach since the late 1800s. The city offers an exceptional lifestyle with a near-perfect climate, 23 miles of stunning white sand beaches and world class attractions. There's plenty of outdoor recreation, theater, the symphony and art museums, hundreds of restaurants, four University campuses and state-of-the-art medical centers. Daytona Beach is a popular place for "spring break," and many well-known events are held in the town each year, including Speedweeks in early February and Biketoberfest in October. Unlimited activities include swimming, sailing, fishing, boating, beach volleyball, kite flying, biking and golf. In addition, the city's famous pier and boardwalk is lined with dozens of restaurants, bars and shops. Tourism and manufacturing are the main industries. Shopping is available at the Volusia Mall, Ocean Walk Shoppes and Promenade Shopping Center. Daytona Beach has two public traditional high schools, two middle schools and six elementary schools. There are also several large private schools in the area.

As of 2014, the median home value in Daytona Beach is $93,200, with a 7 percent rise expected within a year. The median price of homes currently listed in the city of Daytona Beach is $109,000 while the median price of homes sold is $98,500. For rentals in the city, the median price is $850, which is lower than the median of $1,100 for the surrounding Daytona Beach (beach) area.